Welcome to the Clark Family Website. Over the last 10+ years I have specialised in photography both for local sporting teams and commercial purposes.
All photos located on here are subject to copyright, and available for licencing, either as a print, or as a digital negative. All digital negatives are available at a significantly higher resolution than shown on the website.
If you are interested in any photo, or other informaiton, please contact me at john@clarkfamily.com.au
Shore Rugby
9th v Kings at Shore 23rd August 2014
U16F v Joeys at Joeys 7th September 2013
U16G v Kesser Torah at Shore 5th August 2013
U15E v Oakhill at Shore 4th August 2012
Shore Basketball
U15E v St Ignatius at Shore 19th November 2011
New Solar Power system up and running!
We now have a 3KW solar power system on the top of the house churning away, trying to get enough power to run the computers and the swimming pool, air conditioning, etc. To see how it's going, look here ...
New Weather System Installed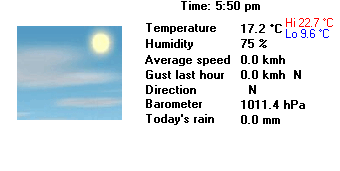 _____________________________________________
Clark Family Trips ...
Cambodia and Vietnam 2010
Cambodia
Northern Vietnam - Hanoi and Ha Long Bay
Central Vietnam - Hue and Hoi An
Southern Vietnam - Saigon (Ho Chi Minh City) and the Mekong
Italy and France 2007 ... The World Cup and Beyond!
Lake Como, Verenna and Milan - Cinque Terre
French Riviera and Monaco - Provence
World Cup Rugby, the Liore and the Cheateaux
Paris
Italy 2005 ... the First Big Trip!
Hong Kong, Italy, Windsor, Singapore
_____________________________________________
Kawanishi Junior Rugby Tour 2012

Lindfield Junior Rugby Tour 2011
Reports, Photos and updates here ...
Lindfield Junior 2009 Japan Rugby Tour Pages Here
_____________________________________________